At EZsellcar, you sell your car directly to us and we do it instantly without having to involve a third party's consensus. By eliminating third party's channel, all the processes from car inspection, JPJ Ownership transfer until the cash payment can be executed at instant pace without delay. Even though we are convinced by our within-2-hours manifesto, we are proud to say that we manage to do it in within 1 HOUR for most of the cases we attended (provided that your car loan has been fully settled). YES, you can receive your full amount money within 1 hour time. This is a great benchmark set by us in the industry, thanks to the fully well trained staffs including the sophisticated Car Inspectors.
THE PROCESS: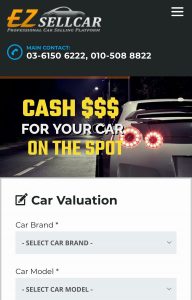 1) MAKING APPOINTMENT
Log in to ezsellcar.my from your mobile or desktop PC. Select your car model and choose the inspection appointment date. Yes, you can set your favourite time as well.
WHAT IF I CANT FIND MY CAR MODEL OR VALUATION IN YOUR WEBSITE
Just whatsapp us some simple details of your car, which includes few car photos (in & out). We are happy to sort it out for you. Don't forget, it's all free.
2) INSPECTION APPOINTMENT
When the day and time set has arrived, just drive your car to our office located at Kepong – Sg Buloh Main Road (see the maps on waze). Have yourself sit back and relaxed in our cosy office, while our Professional Car Inspectors will run a quick check on your car's actual condition. It takes about 15-30mins depends on the car model.
3) PAYMENT & GO HOME
CAN I RECEIVE MY PAYMENT NOW?
After you agree to our Final Offer base on your actual car condition, provided that your car has no bank loan, we can straight away pay you cash without hesitation. But if you opt not to take so much cash with you, we can affect instant online transfer into your bank account. In fact, we did pay out cash as much as RM 100,000.00 on the spot to purchase an Audi from an Expat Owner who was looking for cash money. This looks unbelievable to others, yet this is the trust we build to assure all our customers, that we are able to do that instantly.
I HAVE NO CAR TO GO HOME, CAN YOU SEND ME BACK?
After you sold your car to EZsellcar, we call the fast & secured Grabcar to send you home. Of course it's free of charge since we are happy enough to bear the full trip cost. Unlike other Platform that only willing to bear for a short trip cost, we did send our customers back to their Seremban homes free of charge. Dealing with EZsellcar is simple. We want to make everything easy to our customers.
It's Done, and It's Deal. Truly Easy and Happy Selling!