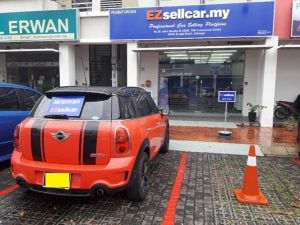 Passion for cars is about the enthusiasm about cars. It somewhat involves multiple levels of participation from the bottom till higher level of activities. One can find himself likes car. Yet, not everyone has that deep passion required in order to get into becoming an enthusiast. No doubt, one needs to achieve certain degree of indulgence before the passion can turn into enthusiasm, the level where car and driver meets and connects to each other. Passion for cars can be divided into few levels with its owner's characters as follows:
 Level 1 – Basic level – What do people achieve in common
Love every car with the latest trendiest shape in market
Love to install car body kits include GT wing / lowered spring / louder exhaust / big offset sports rims and tyres etc
Prone to modify stereo hi-fi audio system with loud speakers plus sub-woofer
Level 2 – Intermediate level – What do people achieve in common
Start to get excited with faster speed, compared other cars on the road
Usually will follow some automotive forums or join some car clubs to express themselves
Interested with some general car topics, be able to name certain common car model variants, together with their subsequent associated models
Start to show desires in Basic Performance Upgrade (BPU)
Level 3 – Upper level – What do people achieve in common
Confident to identify most of the common car model variants (include sports exotic / classic/ luxury/ rare legends/ limited edition), with their subsequent associated models, engine codes, transmission types, drivetrains, engine layouts and configuration, horsepower, torque peak, zero to hundred, car's impression etc in general
Spirits of engine tuning and modification
Indulge in everything about TURBOCHARGED ENGINE and also high rev DOHC VTEC
Indulge in downshifting with manual stick
Indulge in advanced driving techniques
Enjoy the vehicle dynamics and max output limits that can achieved existing engine profiles
Be able to access rapid changes of car behaviours, by retrieving signals from engine, transmission or suspension impacts while driving
AT EZSELLCAR, WE CAN HAVE WONDERFUL CHATS WITH YOU ABOUT YOUR CAR FOR SALE:
In fact, managing a car's buy & sell is not like other goods trading, because it involves a lot of mastery and recognition of theoretical till practical understanding about car's variants. The same car model could derive into many different variants with separate engine and transmission codes. Different model variants could easily affect the car selling price in market due to the demand and supply factors. All these facts, information and skills can only be acquired through years of experience and also the deep passion for cars. In order to experience a wonderful selling process, it is always recommended to meet with the "Real Direct Buyer" who is equipped with knowledge about your car, so that you won't waste your time at the end.