When you are searching through the online car sites to sell your car, the first thing to avoid is those "Virtual Sites" for safety purposes. 'Virtual Sites' normally does not contain actual office or any proper showroom set up in physical. Most are found with minimum information about their company and usually appeared with just 1 piece data sheet. It may not be safe to deal with these kinds of sites as you don't know who you are dealing with. At the same time, they will never prepare to meet with you in real person. Hence, we highlight to you the differences and importance of getting your car inspected at our EZsellcar office   
SAFE & SECURED AS YOU CAN MEET US TO KNOW US MORE
At EZsellcar, we have the real and established office that welcome everyone who wants to sell car on the spot. It's easy to find us all the time as we know being transparent is important to you. We not only welcome you through online methods, but also physically at our real office. We welcome you to meet up with us face to face so that you know who we are. Hence, there is nothing to hide behind the screen. Instead, what you get is a safe and secured transaction towards selling your car.
JPJ TRANSFER CAN BE DONE ON THE SPOT
We encourage everyone to bring his car for a scheduled inspection appointment at EZsellcar Office. This is for the sake of getting the JPJ Ownership Transfer done on the spot at your convenience. With all the devices and servers set up and linked with JPJ at our office, we just need a simple thumbprint from you for an instant online transfer without having to do the running around to JPJ Department.
PAYMENT OR CASH CAN BE GIVEN OUT ON THE SPOT
Your attendance with your car to EZsellcar Office is important to you so that we could verify your identity and pay you cash money on the spot. Again, as trusted car selling platform, we have nothing to hide behind the screen. Once we identify your car with the exact ownership details, you are confirmed a cash payment on the spot without delays. All the transactions are carried out with full care in front of you, at EZsellcar office.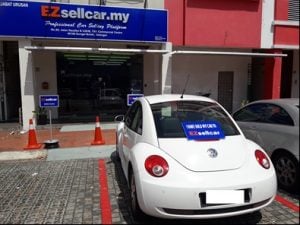 In the simplest of terms, we are the trusted licensed platform that pays cash for cars instantly and we do it quickly on the spot without hesitation. When you are searching 'sell my car' on the internet examining through the various unknown websites, their promises and arduous buying processes, we hope to be a beacon of light offering something different. Yes, a fast enough, dare we say the easiest service to sell your car. Selling a car shouldn't be a burden. It should be a safe, stress free, risk free and hassle free process and we are confirm and certain that we make that available to anyone simply looking for cash for their car on the spot.